Statement designer shoes for spring are sky high and include cut-outs, bright colors, feathers, fringes and ruffles. Jeweled metallic flats and studded gladiators are still a summer staple but the hottest look for spring is caged footwear and super-stilettos with mega-high heels.

All in the name of fashion, this season's die hard fashionista are in danger of doing serious to their ankles. It's time to show you some trends shoe for this spring summer 2009.


EXTREME HEELS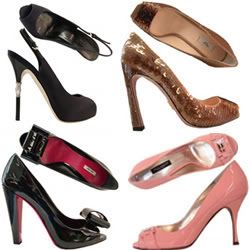 This heels is the number one choice for fetish footwear killer heels and much more. This season's shoe is the ankle-breaker towering stilettos which go as 7 inches high. This is known as "taxi shoes", where travelling by car is essential or even at shortest trip.

According to UK's Telegraph this mega high heel shoe worn by Victoria Beckham and Gwyneth Paltrow from the show last Feb 9, 2009 in " Great Depression, Skycraper Heels are Back in Fashion", despite of the world's economic woes, Selfridges in London's Oxford Street reported huge increases in the sale of mega-stilettos from designers such as Yves Saint Laurent, Christian Louboutin and Balenciaga.


PLATFORM PUMPS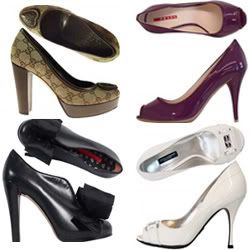 This designer shoes are classic for spring and summer but far from boring. You'll find them in patent, metallics, satin, suede and animal skin, plus crazy prints. YSL's cages are also available in a platform pump with ankle strap. According to Fashionishing.com's "designer shoes for Spring/Summer 2009", fringing on footwear is hugely popular this season, both in flat sandals and high heels.


GLADIATOR SANDALS

This considered as the Ultimate sandal, big and bold with buckles galore. This sandal has a maximum impact knee-high or mid-calf styles need to worn with spring shors and oversized tee. You find this shoe in pastel colors like pink blush.


STRAPPY SANDALS

After several season's the runways just can't let go of studded embellishments and colored stones. Spring 2009 designer shoe styles continue to favor summery flats which are the perfect accompaniment for the season's. Either strappy sandals are high heel or flat. High heel strappy sandals are a staple for those warm spring and summer months. They flatter nearly everything and they take you anywhere. Slide your feet into a pair for work or play and see how much freer you feel. A pair of pretty strappy flats with this season's ropes, ruffles, feathers and fringing are a way to make a statement without the pain of high heels.


BALLET FLATS

Ballet flats are derived from a woman's soft ballet slipper, with a very thin heel or the appearance of no heel at all. The style usually features a ribbon-like binding around the low tops of the slipper and may have a slight gathering at the top-front of the vamp (toe box) and a tiny, decorative string tie. Ballet slippers can be adjusted and tightened to the wearer's foot by means of this string tie. This is timeless wardrobe and comfortable to wear whether what is in for the season.

With so many trends in this season's today, whether strappy or some lowering heels or even high heels it is easy to embrace this designer shoe trend nowadays.